IsoBuster 4.8 Released!
June 22, 2021
I'm very happy to announce the release of IsoBuster 4.8.
This version contains a lot of exciting new functionality as well as the usual list of improvements. Notice support for ReFS. Implementation was no small feat. But also compressed DMG has finally been implemented. Furthermore are there exciting new search features and a whole list of improvements worth checking out. See below list for all the details:
Changes / New:
Support for Microsoft's newest file system, ReFS. Versions 1.x, 2.x and 3.x with 16 KiB and 64 KiB clusters on 512 and 4Kn drives are fully supported. (tested with ReFS 1.1, 1.2, 2.0, 3.1, 3.4 and 3.7)
Full, random access, compressed *.dmg image file support
Ability to show file system meta data, via right mouse click on a file system icon (Implemented for NTFS, FAT and ReFS)
Support for Amiga partitions
Support for AmigaDOS
Support for *.adf and *.hdf image files
Option to Clone [From-To] - via Shift + right-mouse-click
Search command "range:x:y" to search for all objects that fall in the range starting at address x over a range of y blocks
Search command "fromto:x:y" to search for all objects that fall in the range starting at address x and ending at address y
Improvements:
Compensate for illegal CD/DVD TOCs, especially on multi-session discs where a higher session seems to start at a lower than possible address
Display an appropriate text when scanning for partitions hasn't been done yet
Show text making it clear that when a partition is encrypted, scanning for missing files and folders is unlikely to yield recoverable data
Do not automatically show the EWF (*.E01) properties anymore in the edit dialog when a *.E01 file is loaded, use the image properties instead
Avoid finding UDF VAT and SAT structures on other than 2K media because it's only used on 2K (Optical) media
Renamed "Unassigned Partition" to "Unallocated space"
Improved detection and support for XFS v5.x
Detect Amiga SFS (Smart File System) and Amiga PFS (Professional File System)
Keep (left pane) TreeView selection visible, even when the TreeView has no focus
Important improvements, yielding more accurate video files, for the Panasonic 750/780 series Video Recorders (DVR)
Recognize a Sony RDR-HX730 DVR image file as a HDD image file (not as an optical disc image file)
Recognize a Roland 256 byte/block image file
Improved support for *.xgd image files
Improved support for XISO image files
Improved finding embedded NTFS files based on their signature via a scan for missing files and folders
Added *.wim file signature detection via a scan for missing files and folders
Get a better FAT volume name, time stamp and various extra meta files immediately by parsing a (small) part of the root already
Do not convert FAT short names to lower case (anymore)
Important improvements to find a missing NTFS volume on the fly (e.g. with a corrupt $VBR) and during a scan for missing files and folders
Show [filename.rules] in label and/or [*.rules] in caption of the 'Find missing files and folders' dialog when a rules file is being used
Added more predefined search terms (via the arrow pointing to the right, on the right side of the search box)
Plenty of other improvements, a few changes and re-writes in the core code / engine, as this is a living project and to deal with the ever growing new functionality
Various other GUI improvements
Fixes:
Fixed an issue that could cause bad sectors to show as good sectors in a freshly made (ibp/ibq) managed image file, under certain conditions
NTFS volumes with 64 KB clusters didn't work properly all the time (introduced in IB 4.6 when 2 MB clusters were implemented)
Fixed it so that when Extracting a folder is cancelled, fully expanding (going deep) of the folder is also properly cancelled
Fixed HFS file extraction (issue introduced in IB 4.7)
Fixed an exception error that could occur when a combination of certain UDF structures were found during a scan for missing files and folders
Fixed an exception error that could occur when IsoBuster went looking for the Nero (*.nri) project file (set via Options)
Fixed a Popup Menu text vs functionality mismatch "Extract & Run" vs "Extract Raw but convert to User Data"
Fixed an Options text vs functionality mismatch (wrong text next to 'embedded' icon and 'ISO9660 extended attributes' icon)
Please tell people about it, like and share it on Facebook and/or Twitter, post it on forums, reddit, etc. Practice safe and honest computing and stay away from cracks and keygens. Your help is appreciated.
Peter Van Hove,
Founder and CEO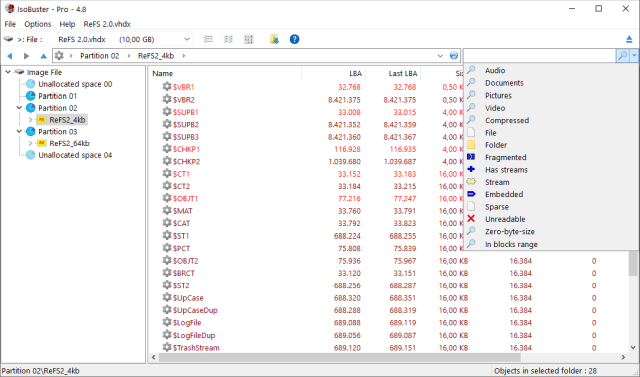 Click to zoom