El torito (boot) Spezialfunktionen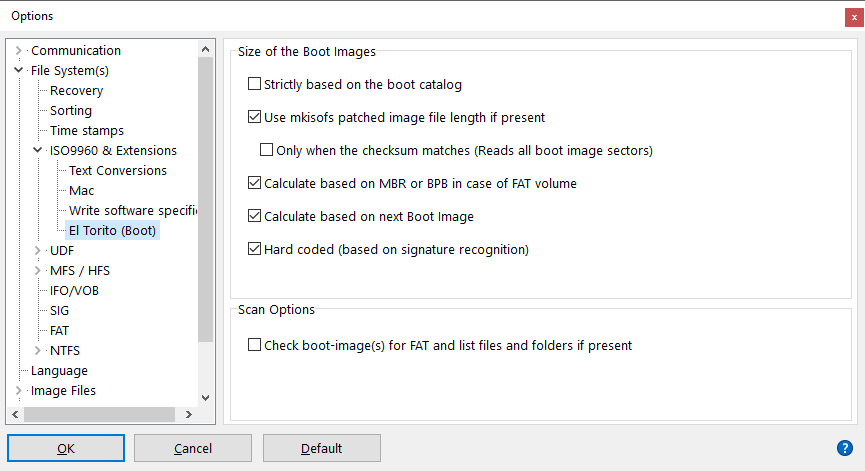 Size of the boot images
Strictly based on the boot catalog
Determines the size of the boot images purely based on the information contained in the El Torito structures on the disc
Use mkisofs patched image file length if present
Bootbare CD/DVDs die mit mkisofs erstellt wurden enthalten zusätzliche informationen zu Größe vom Boot-Image.
Die Größe des Boot-Images erstellt nach el Torito (Spezifizierung) Struktur kann tatsächlich für das erstellte Boot-Image falsch sein.
Die echte Größe ist dann in der speziellen mkisofs Struktur aufgezeichnet.
Mkisofs enthält diese Funktion weil manches BIOS nur mit bestimmten Boot-Image-Größen umgehen kann (im no emulation mode).
D.h. obwohl die Größe laut el Torito absichtlich falsch ist, steht die richtige Größe in der speziellen Struktur.
IsoBuster zeigt (und entpackt auf Anfrage) die korrekte Größe basierend auf der mkisfs Struktur, wenn diese Funktion aktiviert ist.
Calculate based on MBR or BPB in case of a FAT volume
Uses FAT data to determine the boot image size
Calculate based on next boot image
Uses the area up to the next boot image
Hard coded (based on signature recognition)
Based on hard coded values, determined via reverse engineering
Check boot images for FAT content and list files if FAT is present
Sometimes, not always, the boot file (*.img) of a bootable CD or DVD contains a FAT file-system. For instance the boot image file of the Windows 98 installation disc is a 1.44 MB floppy image with a FAT12 file-system inside. If this option is enabled, IsoBuster checks the boot image file while mounting and if the boot image file contains FAT, IsoBuster then adds a FAT file-system to the disc layout and shows all files and folders inside the FAT file-system, in other words IsoBuster then shows the files and folders contained in the boot image file.
Scan Optionen (normales mounten der Disk)
Text Konvertierung
Mac Eigenschaften and Entpacken Methoden
Brenn-Software spezifisache Optionen