Reviews
CHIP magazine, a very big computer related magazine in Germany, and other German speaking countries, elected IsoBuster as winner of a rigorous CD and DVD recovery test and as best price quality solution, compared to the competitors. Click on the pictures on the right to see the official announcements (in German). (Link to complete German article. But beware, it's a 14 MB file!)
PCUPDATE magazine, a very big computer related magazine in France, elected IsoBuster as winner of a rigorous CD and DVD recovery test and as best price quality solution, compared to the competitors. Click on the picture to see the entire article (1,5 MB)(in French). IsoBuster was awarded "Le Choix de la Rédaction" or Editor's choice award.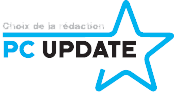 IsoBuster reached over 1,000,000 downloads on CNET and thus became a 'Popular Download'!

Kim Komando talks about IsoBuster
In her column of 11/10/2003 Kim Komando talks about IsoBuster and the recovering of "lost" data from CDs.

LangaList mentions IsoBuster in newsletter
The website LangaList mentions the 'Ultimate Data Recovery Tool' in their newsletter.

IsoBuster on InfoPackets website
InfoPackets recommends IsoBuster to extract data from 'very stuborn media'

3D2F reported in a review: Now you can understand my amazement with IsoBuster? I really don't know what can be done to damaged disks on top of this suite's capabilities. Read the complete review here.
Chapters and or references in books
CDs brennen Cult Guide (Das Top-Know-how der Brennprofis) by Adre Moritz, Anja Maria Wagner (publisher: Data Becker)
DVD, SVCD et MPEG par Stephane Cazat (Publisher : Micro Application)
Chinese book: NO IDEA what it says nor what the title is ;-)
PC Annoyances by Steve Bass
Don't Panic, Book of Computer Answers by Nigel Powell
"Quelques clics: Dépannez Windows XP" by Eric Viegnes
Articles and/or included on CD/DVD-ROM in many more magazines and News papers
PC Magazine (USA)
C'T Magazine (Netherlands, Belgium, Germany)
Chip (Germany)
PC Plus (Germany, Spain)
PC Tip (Switzerland)
PC Praxis (Germany)
PCMax (France)
PCJapan (Japan)
PCM (Netherlands)
PC World Magazine (USA, Australia, New Zealand, UK, Ireland, Spain,...)
PC PRO Magazine (Ireland, UK, Germany, Italia,...)
PC Professionell (Germany)
ComputerBild (Germany)
PC Advisor (UK, Germany)
Domashny PK (Ukraine)
DOUGA AND DVD TTETTEI KOURYAKU (Japan)
Download DX (Japan)
Internet Techniques (Japan)
NET-RUNNER (Japan)
I Quaderni di PC (Italy)
PC-Active (Netherlands)
E-pasaule (Letland)
Internet hunter (Japan)
PC EXPERT (Brazil)
Computing Age Magazine (Japan... I think, far east for sure)
TECH Win (Japan)
Windows Advisor (UK)
Computer Guide (Germany)
ASCII PC Explorer (Japan)
Digital Photographer (UK)
Sound On Sound (UK)
PC Powerplay (Australia)
dFoto (Ukraine)
PC@Authority (Australia)
PC Extreme (Ireland)
APC magazine (Australia)
Computertotaal (Netherlands, Belgium)
PC Professional (UK)
Maximum PC magazine (USA)
CPU Magazine (USA)
Tips & Trucs (Netherlands)
Pr@xis (Austria)
Computer Buyer (UK)
SysAdmin Magazine (Mexico)
Windows User Magazine (Dubai, United Arab Emirates)
Inglewood News (LA area, USA)
Hawthorne Press Tribune (LA area, USA)
PC Professionale (Italy)
Lawndale News (LA area, USA)
And many more... we lost track!