IsoBuster Multi-session viewer / browser
Finding and browsing through missing or hidden CD/DVD (multi)sessions.
When you append data to a disc it can happen that you suddenly can't find your earlier recorded data back. This has to do with how sessions are added to optical media.
Additionally, adding sessions on write-once media, allows you to change / update files, when in reality the older file is still physically recorded in an earlier session.
IsoBuster shows you all the sessions it can find immediately, after mounting the media. Starting from the session of your choice you can then extract old or new data without any difficulties.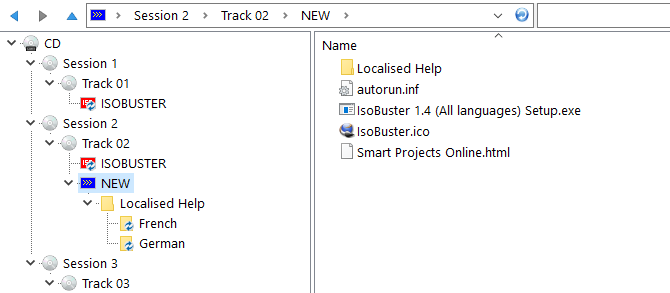 It becomes really interesting if you know that certain software packages can also hide multiple virtual sessions in one physical session. IsoBuster immediately spots these hidden older sessions on RW media created by Nero and Ashampoo.
Last, if the session truly stays hidden, then there's still the "Find lost files and folders" option which can bring back any older session.
You can have IsoBuster sort all data before it is first displayed as well. More on this in the help file.
In any event, IsoBuster is the tool to do the job!
Give it a try, you will see.
Testimonial (From testimonials section):
I back up my data to DVD-R and DVD+R using Nero multisessions with these options: Replace files with changed date or size, add new files, and remove deleted files. I name each session with the date. Windows Explorer sees only the latest versions of the files in the folders, but with IsoBuster I can go back in time to any of the preceding sessions. It's the perfect way to get old versions out. I set Nero to the UDF file system for the best compatibility with long file names and paths. With the new sort options in IsoBuster it's easy to find what I'm looking for in folder and file lists. It's also great to know that if a disk should deteriorate, IsoBuster will probably read it!
Ed, Eureka, California, USA
Click here to go to the full features list of IsoBuster.